In the age of social media and visual storytelling, photography has become more accessible and popular than ever before. Whether you're a seasoned professional or an aspiring enthusiast, having the right camera can make a significant difference in capturing those breathtaking moments. To help you narrow down your options, we have curated a list of the top five best cameras on the market. These cameras excel in image quality, performance, versatility, and overall user experience, all while being within a reasonable budget. Without further ado, let's dive into the world of photography and discover the perfect camera for you.
The Top 5 Cameras for Every Photography
1. Canon EOS 90D :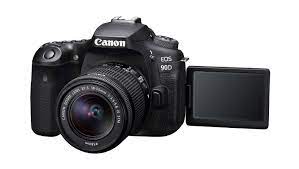 The Canon EOS 90D is a versatile DSLR camera designed for enthusiasts and advanced photographers. It boasts several impressive features to enhance your photography experience. The 90D features a 32.5-megapixel APS-C CMOS sensor, delivering high-resolution images with exceptional detail and clarity. It supports a wide ISO range of 100-25600, allowing for excellent low-light performance. The camera offers a fast and accurate Dual Pixel CMOS autofocus system with 45 cross-type AF points, ensuring quick and precise focusing on your subjects. It can shoot continuously at up to 10 frames per second, capturing fast-moving subjects effortlessly. The EOS 90D also includes a built-in optical viewfinder, a vari-angle touchscreen LCD, and a 220,000-pixel RGB+IR metering sensor for accurate exposure control. Additionally, it offers 4K video recording, built-in Wi-Fi and Bluetooth connectivity, and compatibility with a wide range of Canon EF and EF-S lenses. Overall, the Canon EOS 90D combines advanced features and versatility to deliver exceptional image quality and performance for photography enthusiasts.
2. Sony Alpha a7 III :
The Sony Alpha a7 III is a highly capable full-frame mirrorless camera that combines impressive features with exceptional image quality. It boasts a 24.2-megapixel Exmor R CMOS sensor and BIONZ X image processor, allowing for stunningly sharp and detailed photographs even in low light conditions. The a7 III offers an impressive ISO range of 100-51200 (expandable to 50-204800), ensuring excellent performance in various lighting situations. It features a 5-axis in-body image stabilization system, providing up to 5 stops of compensation for blur-free images and smooth video footage. The camera offers continuous shooting at up to 10 frames per second, along with a wide autofocus coverage of 693 phase-detection points. It supports 4K video recording with full-pixel readout and no pixel binning, as well as S-Log2 and S-Log3 gamma profiles for enhanced dynamic range. The a7 III also includes a durable magnesium alloy body, a tiltable touchscreen LCD, and a high-resolution electronic viewfinder, making it a versatile and reliable tool for professional photographers and enthusiasts alike.
3. Fujifilm X-T4 :
If you are looking for a mirrorless camera with a retro charm and cutting-edge technology, the Fujifilm X-T4 is an excellent choice. It features a 26.1-megapixel APS-C sensor, renowned for its outstanding color reproduction and image quality. With an advanced autofocus system and in-body image stabilization, the X-T4 ensures sharp and steady shots in various shooting scenarios. This camera is also praised for its exceptional video capabilities, offering cinema-quality 4K recording. With its classic design and extensive range of Fujifilm lenses, the X-T4 is a true gem for photography enthusiasts.
4. Nikon Z6 II :
The Nikon Z6 II is a full-frame mirrorless camera that excels in both still photography and videography. With a 24.5-megapixel BSI CMOS sensor and an impressive 273-point hybrid autofocus system, the Z6 II delivers exceptional image quality and accurate focusing. It offers excellent low-light performance and an impressive burst rate of up to 14 frames per second. Additionally, the camera's video capabilities are equally impressive, with 4K recording at 60 frames per second and enhanced autofocus tracking. The Z6 II's robust build quality and user-friendly interface make it an excellent choice for photographers seeking reliability and versatility.
5. Olympus OM-D E-M1 Mark III :
The Olympus OM-D E-M1 Mark III is a flagship Micro Four Thirds camera renowned for its portability and superior image stabilization capabilities. With a 20.4-megapixel Live MOS sensor and the powerful TruePic IX processor, this camera produces stunning image quality and exceptional detail. The E-M1 Mark III's innovative 5-axis image stabilization system provides up to 7.5 stops of compensation, ensuring sharp and blur-free shots, even in challenging shooting conditions. With its extensive selection of high-quality lenses and weather-sealed construction, the E-M1 Mark III is a top choice for travel and outdoor photography.
Conclusion :
Choosing the right camera within a good budgets is a crucial decision for any photographer, whether you're a professional or an amateur. The top 5 cameras discussed in the article, with proper details, before buying kindly read this article to get good knowledge about there features. If you have any doubts or any question then comment me in a section below.
Now we are ending this article and we will meet you soon in another article, till now share this informative article to your friends and family, so have a good day guys and be safe.