The year 2023 has witnessed an impressive surge in technological advancements, revolutionizing the way we live and interact with our surroundings. With cutting-edge features, enhanced functionality, and sleek designs, gadgets have become an integral part of our daily lives. In this article, we will explore the top five gadgets of 2023 that have captured the imagination and are shaping the future.
The Top 5 Gadgets of 2023
1. Sonos Era 3000 Speaker :
The Sonos Era 300 Speaker is a compact yet powerful audio device designed to enhance your listening experience. With its sleek and modern design, the Era 300 seamlessly integrates into any room. It offers rich, room-filling sound thanks to its high-quality drivers and advanced acoustics. This speaker supports wireless streaming through Bluetooth and Wi-Fi, allowing you to connect it to your favorite devices effortlessly. It is also compatible with popular voice assistants like Amazon Alexa and Google Assistant, enabling convenient voice control for hands-free operation.
The Sonos Era 300 supports Trueplay tuning, which optimizes the sound output based on the speaker's placement in the room. It also allows for multi-room audio, enabling you to sync multiple speakers together for a cohesive listening experience throughout your home. With the Sonos app, you can easily control the Era 300 and access popular music streaming services, internet radio, and podcasts. The speaker is also compatible with Apple AirPlay 2, giving you additional options for streaming content from your Apple devices.
2. Apple Pod :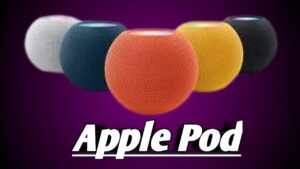 The Apple HomePod is a smart speaker that offers a range of features designed to enhance your audio experience and simplify your smart home control. With its compact design, it delivers impressive sound quality and adapts to the room's acoustics for optimal performance. Its built-in Siri voice assistant allows you to control music playback, get weather updates, set reminders, and more using just your voice. The HomePod also serves as a smart home hub, enabling you to control compatible smart devices such as lights, thermostats, and locks using Apple's HomeKit platform. It integrates seamlessly with other Apple devices, allowing you to easily stream music from your iPhone, iPad, or Mac through AirPlay.
With multiple HomePods, you can create a stereo pair or set up a multi-room audio system for synchronized playback throughout your home. Additionally, the HomePod supports Apple's HomePod Intercom feature, which enables you to send and receive voice messages between HomePods and other Apple devices.
3. Ooni Volt 12 Electric Pizza Oven
The Apple HomePod is a smart speaker that combines high-quality audio with intelligent voice assistance. With built-in Siri integration, you can control the HomePod using voice commands, making it easy to play music, set reminders, check the weather, and more. Its advanced audio technology delivers immersive sound, adapting to the acoustics of your room for optimal performance. You can use multiple HomePods together for a synchronized audio experience throughout your home.
The HomePod also acts as a smart home hub, allowing you to control compatible devices using Siri commands. It seamlessly integrates with other Apple devices, enabling you to stream music from your iPhone, iPad, or Mac with a simple tap or voice command. With privacy in mind, the HomePod features a dedicated Siri waveform on top, indicating when it's listening and responding to your requests.
4. Insta 360 ONE RS 1-Inch Edition :
The Insta360 ONE R 1-Inch Edition is a versatile action camera designed for capturing high-quality footage in various environments. Its key features include a 1-inch sensor, allowing for exceptional image and video quality with improved low-light performance. The camera supports 5.3K video recording at 30 frames per second, ensuring stunningly detailed footage. It also offers a range of shooting modes, including HDR video, time-lapse, and slow motion, allowing for creative flexibility.
The Insta360 ONE R 1-Inch Edition features FlowState stabilization, which ensures smooth and steady footage even during intense action shots. It has a built-in touchscreen for easy navigation and control, as well as a companion mobile app for remote control and editing. Additionally, the camera is waterproof up to 5 meters (16.4 feet) with the included dive case, making it suitable for underwater adventures. With its impressive image quality, advanced stabilization, and diverse shooting modes, the Insta360 ONE R 1-Inch Edition is an excellent choice for capturing dynamic footage in various situations.
5. Backbone One Mobile Gaming Controller :
The Backbone One is a revolutionary mobile gaming controller designed to enhance the gaming experience on iPhones. With its sleek and ergonomic design, the Backbone One seamlessly integrates with your iPhone, providing console-like controls and transforming your device into a portable gaming powerhouse. It features clickable analog thumbsticks, responsive buttons, and a tactile D-pad for precise control. The controller also incorporates a Capture Button for instant gameplay recording and sharing, and a built-in Lightning port for pass-through charging while you play. With the Backbone One, you can enjoy immersive gaming on the go, unlocking the full potential of mobile gaming.
Conclusion:
The year 2023 has witnessed a technological revolution with groundbreaking gadgets that have redefined our lives. From the Smart Home Hub and AR glasses to quantum computing devices, wearable health trackers, and autonomous vehicles, these gadgets have brought science fiction into reality. As we move forward, these innovations will continue to evolve and shape our future, pushing the boundaries of what is possible. The gadgets of 2023 serve as a testament to human ingenuity, reminding us that there are no limits to what we can achieve through innovation and technological advancement.